365 Power Thoughts
for the Resilient Leader
Everything
begins with a thought …
365 Power Thoughts for the Resilient Leader
Leaders are challenged to do more with less. You have to motivate people in the midst of change, confusion and conflict. Too often, you forget to motivate you! 
This book has 365 unique strategies and tips to transform your thinking into a resilient mindset. #realchange  #boldimpact
The book comes with suggestions on how to use the book along with step by step instructions on 5 unique strategies to eliminate the stress reaction..
This is a great gift idea for teams and leaders. Help your people shift out of negative thinking. This book is one of the perks of joining the Work Smart Club & Library.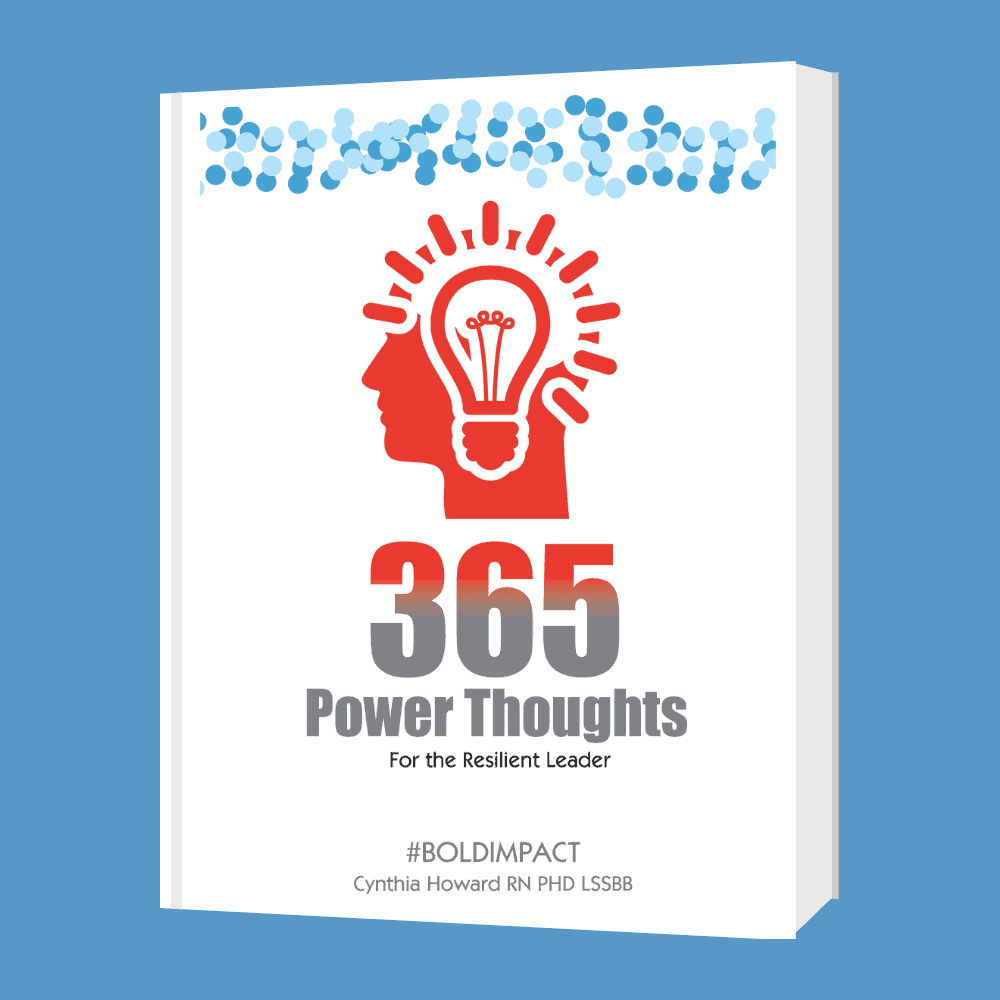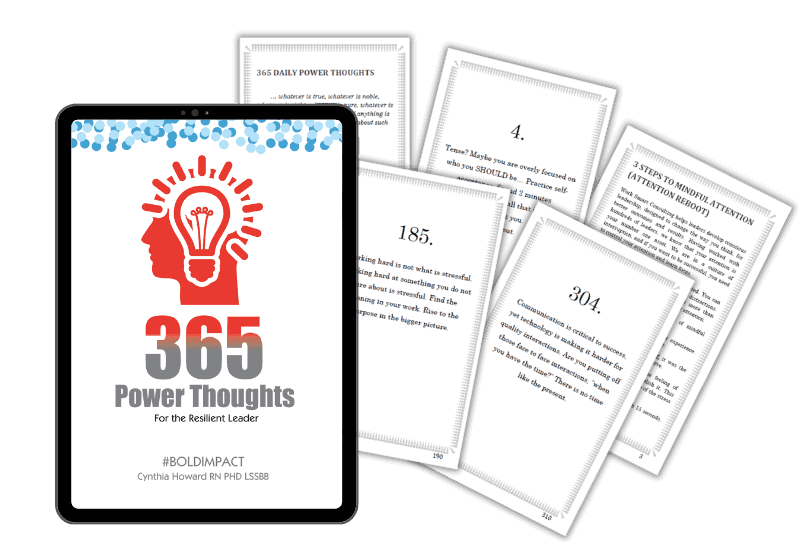 All of the Power Tips are actionable – right now. This simple strategies will help you think differently about your challenges and how you approach work. 
Meet your Executive Coach
Dr. Cynthia Howard wants to work with your leaders, through this Club, to help you advance your agenda and achieve consistent success. 
Executive Coach
Having worked with literally thousands of leaders and professionals, you have the benefit of this experience.
Beginning her career in healthcare as a Registered Nurse, Nurse Manager, and Director, Cynthia has built leadership pipelines, developed high performing teams, and helped leaders develop their authentic leadership brand.
Advanced degrees in psychology, researching stress & change. Specialty  is resilient leadership & breaking through barriers.
Performance Expert
Black Belt in Lean Six Sigma and experience planning and managing change gives you the benefit of problem solving skills not usually available to leaders, in this format.
In our 1:1, group sessions, you will bring your specific challenges and come away with innovative ideas and a roadmap that will achieve your outcomes while helping you look like a genius! 
You have the benefit of tremendous expertise and the synergy from group members to solve performance issues along with premium online training.
"Working with Dr. Howard was the best decision I made. She provided amazing insights and after our sessions, I was motivated and inspired. I could not have made this much progress on my own"
Sabine B.
Agile Coach | Product Owner
"Amazing, is the best word to describe my experience. Having someone to talk to and a group to share ideas boosted my confidence. I highly recommend this."
Colette F.
Director of Simulation
"Life changing. Having this group and Dr. Howard on my "team" to share ideas and plan strategy helped me get my promotion and feel really good about myself as a leader."
Lydia C.
Director of Wound Care